Steve and Allese Dunn have spent a lifetime around each other, around horses, and around the track, and it's something the pair never regrets. They met while working admissions at Belmont Parkwhere Steve held a second job after galloping horses in the morning. Allese was fresh out of high school, following her father's steps as a mutuel clerk.
From galloping future Hall of Fame mares to training winners, the Dunns have seen the highs and lows of the industry and have stuck through it all. "We've worked together our whole lives," Allese said. "He rode them, and I rubbed them, as they'd say."
Together, the two have raised a family and maintained a successful small outfit that focuses simply on doing better—every day.
MarketWatch: What lured you into the racing industry?
Sign up for BloodHorse Daily
Steve Dunn: My father, John Dunn, was a horse trainer and a farm manager. I guess you could call me a racetrack brat. I grew up walking hots in the summer and wanted to be a jockey. So, I started galloping at Keeneland when I was 12 or 13 years old. When I was too big to ride, I decided I would try to train a few winners. I went on that path for a while. I just wanted to get out of Lexington; I wanted to go and see the places I had never been. I wanted to see Allen Jerkens and Belmont and Saratoga. I went to New York cold, without a job, and didn't know anybody. I got a job there and planned on going to Florida, but I was working a second job, and I met Allese and stayed for six years. We've been married 38 years.
Allese Dunn: I had never met anyone like (Steve). I'm originally from Flushing, Queens, New York. The horse business was new to me. I had always been an animal lover, but it was a culture shock.
MW: Where did you go from New York?
SD: I was still galloping horses in New York. I worked for Jeff Lukas the first year he came to New York and galloped Life's Magic for him the year she won the Eclipse (champion 3-year-old filly in 1984 and champion older mare in 1985). I also galloped Lady's Secret her 2-year-old year. Then she broke her maiden in a dead heat and was shipped to Santa Anita to D. Wayne Lukas for a stakes race.
[Lady's Secret became the 1986 Horse of the Year and champion older mare.]
Those horses helped me earn a spot as an assistant trainer to Mark Casse, and we went with him when he got the job for Calumet. We did that for a few years, working at Hialeah Park and Belmont for a few years, and then Mark opened a public stable at Churchill Downs after Calumet fell apart. We started with five or six horses at Churchill, and by the end of the meet, we had 40 horses. Mark's in the Hall of Fame and deserves it. He is a remarkable horseman, person, and businessman. I stayed with Mark for a few years and then went out on my own.
MW: What was something you took away from working with Lukas and Casse?
SD: Attention to detail, attention to the little things, and organization. Wayne taught me about just putting the horse first. (Wayne) was just very, very driven, one of the most driven people I've been around. Maintaining your intensity every day is tough, but he did it. This business is hard because you work seven days a week, 365 days a year, 10, 12, 14, 16 hours a day, and it's tough to maintain that intensity, but he never had a problem with it. He was unbelievable. But he raised the bar, and he raised the bar for you because he made you better. Good coaches make you better. They make you do things you didn't think you could do.
(LR) Austin, Allese, Steve, and Katie Dunn
MW: You and Allese have two children, Katie and Austin. Did you find it challenging to manage a family while managing a racing stable?
SD: Sure. It was a challenge. We had some clients that we would travel to the Fair Grounds in the winter and then back in the summer, and it came to a point where I quit traveling. It wasn't working—too much time away and Allese being alone. We lost all of our horses and went down to two head. I went back to galloping horses for other people, and Allese got another job. But it didn't matter because you must take care of your children and marriage. Our marriage and children were more important than the horses and the horse business. Divorce lawyers love the horse business.
It's very hard. It's not for everybody; it's a lifestyle; it's all-in. It wants every ounce of your energy; it'll take it all if you let it. It's hard to find that balance. We struggled with ambition and balance . But we're fine. I'll never regret a moment spent with our children while they grew up. The horse business allowed us to spend a lot of time with the kids. We were the only parents there because it was during the day , and everyone else would be working. Many times, we were there, whether it was a practice, a game, or a mid-school performance.
AD: We were dirty, but we were there. We'd have poultice on our hands, but we were there.
MW: What would you say to a young couple trying to make it on the backside?
SD: Get tied on. It's hard. It's hard to do it anymore with young kids. It used to be a family thing where everyone's kids came to the track, and you had two or three horses, but it's all changed.
MW: How do you try to get the most out of your small string that you can?
SD: Take the best care of the horses as you can and the owners, and be realistic and put the horses in good spots. I've always said the horses do the running, so if they're having fun, we all get to have fun. But if the horses aren't having fun, then nobody else gets to have any fun. You must ensure you get them in good spots where you can win and be competitive. It makes it more enjoyable for everyone, and it covers the expenses, too. I don't think anybody has the illusions of hitting the lottery in the horse business; they're trying to enjoy the whole experience. It's hard to win races, so when you do, it's very gratifying.
MW: Do you find it easier for the "little guy" to win in one jurisdiction over another? And, if so, is there a way to help the "little guy" wherever they're racing?
SD: Absolutely. At Keeneland and Churchill, it's hard for a small outfit to win. It's very competitive and tough. I don't know. The main thing is to try to keep the lower- and middle-class owners in the game. A lot of what happens is the expenses tend to add up. With things going the way they are now with inflation and the HISA fees they may pass on to the owners, it's hard to break even. I think the first ones to go will be those who don't have that expendable entertainment dollar. The better purses at the smaller tracks help, and the better purses everywhere help, but it's hard to win those.
I worry about the expenses running a lot of people out. There's a breaking point, and I think at some point, we're all going to hit that wall and say that's enough. For us, we're kind of aging out. I 'm 65, and it's a young man's sport. It's changed dramatically and will change even more dramatically in the next five years. There will be some contraction with tracks, horses, and trainers … overall, there will be a widespread contraction in the industry .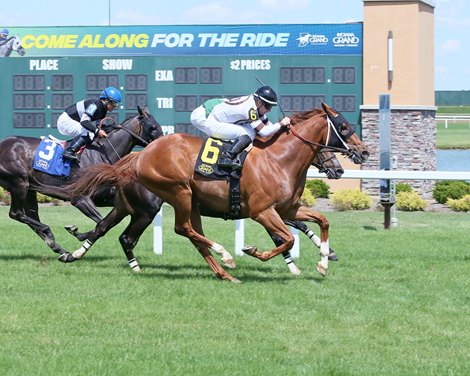 Aristomaches wins at Indiana Grand in 2[image url="//cms-images.bloodhorse.com/i/bloodhorse-images/2019/06/f03288cca54e47d8b08b64ac670cf39b.jpg?preset=medium" alt="Aristomaches wins 2019 Allowance at Indiana Grand" credit="Coady Photography"]Alese Dunn's Aristomaches wins at Indiana Grand
MW: What do you foresee in the future for you and Allese?
SD: I don't know. It's a little troublesome. Right now, we have some nice babies and some people we're taking to the sales in September, but I don't see us having 20, 25 horses anymore. The game's changing , we're getting older, and we're running out of clients. I guess we've downsized on everything and want to keep it more manageable. We just want to enjoy the horses and our time together. We're empty-nesters . It's just Allese and I and our cat, Binky.
.