Many of the 22,138 fans who strolled into Monmouth Park on a steamy July 23 to watch the TVG.com Haskell Stakes (G1) may have noticed something new from past visits.
Not that it's entirely unusual for that to happen at the Jersey Shore track.
For more than a decade, Monmouth has been one of the sport's most innovative and resilient racetracks, giving life to ideas such as the days of a million dollars in daily purse money or exchange wagering.
Lest we forget, the only reason there's a sports betting craze across the country is because Monmouth CEO and chairman Dennis Drazin had the gumption to ignore the naysayers and convinced the nation's Supreme Court to strike down restrictions so that betting on sports could become legal in New Jersey and throughout the country.
This year's novel notion involved fixed-odds wagering. Monmouth has become the pioneer here in the United States for a betting format that has become wildly popular in Europe and Australia, where BetMakers, Monmouth's partner in the fixed odds venture, is based.
Sign up for BloodHorse Daily
In fixed-odds wagering, basically what you bet is what you get. Odds are locked in so that the price you get at the time of making the bet never changes. A horse's fixed odds may change as betting progresses, but the odds for each bet are locked in and cannot change as pari-mutuel odds do when a favorite can be hammered from 2-1 to 4-5 in the final frantic minutes of wagering.
New infield tote board showing fixed odds on Haskell Stakes day
"Fixed odds creates the game within the game and people are starting to gravitate toward it," said Dallas Baker, head of international operations for BetMakers, who is now based at Monmouth Park overseeing the operation.
The initial traction has been slow, but Baker and Drazin expected as much and spoke in those terms before and after the launch with the May 8 card.
The growth of fixed odds has been hampered by restrictions currently limiting the bet's availability to on-track at Monmouth Park on Monmouth races only. That is expected to change this week when monmouthbets.com will launch, offering online fixed-odds wagering on a variety of racetracks.
"In a short time you can bet around the clock on races," Baker said. "What we are doing now will not be 1% of the total turnout once we move it to online to Monmouthbets.com, which should be up and running (this week). With the monmouthbets.com website set to launch, that moves us into the next stage and a stage where we will start taking the 'foot off the brake' with naturally far more available customers but with that will also come the additional content from the United States and then from all around the world."
Baker was hopeful of having the online wagering app operational before the Haskell, and even had hopes of getting it off the ground on race day. But it was not to be.
"We had set ourselves a pretty enormous task to have the (app) up and running for Haskell Day and it was always going to come right down to the wire," Baker said. "Despite some herculean efforts by the tech team and the wonderful assistance from the (Department of Gaming Enforcement), we simply just ran out of time. It was so close that we still gave ourselves a chance right up to an hour or two before the Haskell."
After watching Haskell Day unfold, Drazin also spoke in optimistic terms about the future of fixed odds.
"I always thought it would be slow growth, but people seem to like it. They are comparing the odds with the pari-mutuel price and about 70% of the time fixed odds are better," Drazin said. "Five years from now, I think 50% of the handle will be fixed odds."
When fixed odds finally arrive online, Baker said the list of tracks that can be offered during their meets are: Assiniboia DownsCentury Mile (harness), Canterbury Park, Caymanas Park, Colonial Downs, Delaware Park, Emerald Downs, Fairmont Park, Grants PassHawthorne (harness), Monmouth, Monmouth at the Meadowlands, and Tampa Bay Downs.
Drazin also knows adding some of the sport's premier tracks, such as Saratoga Race Course, Del Marand Keenelandto the fixed odds roster holds the key to the bet's success, and getting each state's regulators to sign on for that has put a thought in his head which popped up when he first considered taking on the sports betting legal battle.
"We need the big tracks, but it's the regulators holding them back. The tracks are excited by it. In my spare time, I consider litigating the issue," said Drazin, a practicing attorney. "Any state that says you need to do this legislatively, they should look at contracts that allow their tracks to send a signal overseas for fixed-odds wagering. What's the difference between sending it to Australia or New Jersey? It's an aggressive stance, but I'm probably the most aggressive person around on these issues."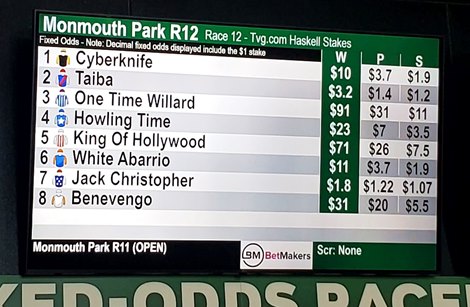 Fixed-Odds on Haskell Stakes Day
Baker said the take on win, place, and show fixed-odds wagering checked in at about $80,000 on Haskell Day, a figure representing about 12.5% ​​of the pari-mutuel handle of around $650,000 on those wagers. It was a solid figure considering there were only about eight windows throughout the track where fixed-odds bets could be taken.
"Internally, we forecast to be around 10% of the total on-track win, place, and show handle in this initial 'proof of concept' stage and that's about where we are, actually a tick over that," Baker said.
Better yet, it was a good day for BetMakers, which netted a solid win on the day.
"It was a very good day. We handled the most money ever and wrote the most tickets ever, and we had a winning day. It was about as good of a win as a book can expect," said Baker, who estimated the Haskell Day handle at three times the mark for the previous Saturday. "We won a lot on the Haskell. The two long shots were the worst results for us. People gravitated toward them, which was lovely to see. Jack Christopher would have been a loser for us, but everything else was a winner."
The idea for bettors is to find the best price on their horse, but for the bookmaker, the name of the game is offering odds that allow them to reap a profit, just as they do in sports betting. As a result, who wins the race can have a dramatic impact on BetMakers as opposed to part-mutuel wagering in which money is taken out of each bet and funneled to the racetrack, taxes, purses, etc.
For BetMakers that meant they would finish on the plus side in the Haskell unless one of the two longshots, One Time Willard and King of Hollywood who were about 90-1 and 70-1, respectively, or the 3-5 favorite Jack Christopher won. As it turned out, Cyberknife ($17.60) won at 7-1 on the tote and was priced at a higher 8.5 fixed price at post time. He was also selling for about 10-1 through parts of the day.
Yet Baker said, even if Jack Christopher had won, instead of finishing third, there would have been a silver lining.
"For the reasonable loss we would have had with Jack Christopher, we would have had a lot of people with winning tickets and that was a good trade-off," Baker said.
The intriguing part of price shopping was put on display when the morning line for the Haskell was announced with Taiba as a 7-5 favorite and Jack Christopher. The opening fixed odds for those horses were even money for Jack Christopher and 5-2 for Taiba, which was closer to the final odds on the tote board.
Fixed-Odds Wagering in the United Nations Stakes
In the day's other grade 1 at Monmouth, the United Nations Stakes (G1T), the victorious Adhamo was bet down to 9-5 ($5.60) at post time but was offered at a fixed price of 3-1 earlier in the day.
Baker said the worst day for BetMakers was July 3 when jockey Isaac Castillo won six races and a considerable amount of fans jumped on his bandwagon.
"The day Isaac Castillo rode six winners, it was a complete strip-out for us, but that's the game. You win some, you lose some, and you just keep churning," Baker said.
One other difference with fixed odds are decimal odds that include the dollar wagered on the horse. For example, a horse with a fixed odds price of 8.0 is akin to 7-1 on the tote board and will pay $16 to win. Each of the track's monitors listing fixed odds has information explaining how the odds are paid out.
"For the younger people, they get it straight away. It's all designed to capture the sports bettor who is already established that way. That's our target audience," Baker said. "When you go online, if you want, you can toggle between fractional and decimal odds."
Given that BetMakers has handled about $500,000 in bets since May 8 from just a handful of windows, Baker remains as confident as ever that in time fixed odds will be a bonanza for Monmouth and the entire racing industry.
"The most important thing was to get it up and running and seeing the customers' reaction and their reaction has been fantastic," Baker said. "It's hard to not have a happy customer when they look at their ticket, and it's paying more than the tote."
.