Attorneys involved in the Frankfort, Ky., appeal hearing involving the disqualification of Medina Spirit from the 2021 Kentucky Derby Presented by Woodford Reserve (G1) at Churchill Downs hammered away at each other's positions Aug. 30 in closing arguments.
Their statements, which came after video-conferenced testimony from owner Amr Zedan and trainer Bob Baffert, brought to a conclusion the slow-moving six-day hearing. The hearing largely repeated statements and arguments made publicly and in court throughout the 15 months since Medina Spirit was reported to have tested positive for betamethasone.
Betamethasone is a corticosteroid and anti-inflammatory that is permitted for therapeutic use in racehorses in Kentucky but is not allowed in a horse's system on the day it races.
After immediately blaming contamination and "cancel culture" for the positive test, Baffert has since 10 days after the Kentucky Derby, maintained that Medina Spirit was unknowingly exposed for a period of weeks leading up to the Derby to betamethasone valerate, an ingredient in the anti -fungal cream Otomax. Otomax, approved by the Federal Drug Administration for use in canines, can be prescribed for use off-label in horses. Betamethasone valerate is listed prominently on Otomax packaging.
Baffert's legal team asserts in its appeal of the stewards' ruling, which further suspended Baffert for 90 days and fined him $7,500, that betamethasone valerate is not specifically prohibited by the Kentucky Horse Racing Commission in its regulations, compared to betamethasone acetate. The latter is a form of betamethasone used in joint injections and is the typical way horses receive the anti-inflammatory.
Sign up for BloodHorse Daily
Clark Brewster, attorney for Zedan and his Zedan Racing Stables, which campaigned Medina Spirit, spoke first during closing arguments, spending his time attacking KHRC regulations and ambiguity, a key issue that could sway hearing officer Clay Patrick to side with Zedan and Baffert.
Patrick said in court Tuesday he has 60 days from the time of receiving a transcript of the hearing to issue his recommendation. The transcript is expected in about 30 days.
The KHRC can then consider Patrick's decision as a recommendation. Further appeals, if necessary, would next proceed into the court system.
Brewster called the KHRC rules "arbitrary" and questioned how they could allow an owner to forfeit the first-place prize in the Kentucky Derby of $1.86 million for the first offense of a Class C medication.
"What's his offense? What did he do?" he asked rhetorically.
Medina Spirit finishes in front of Mandaloun in the 2021 Kentucky Derby at Churchill Downs
Class C medications are less likely to alter performance than those in Class B and Class A, both of which carry stiffer penalties.
Brewster claimed that, unlike betamethasone, hundreds of medications listed within the classification drug schedule in Kentucky are not screened, including some Class A drugs. Commenting on that, he called the KHRC procedures "pure selective nonsense" to disqualify Medina Spirit and sanction Baffert.
He took issue with KHRC rules that point to something foreign to the horse in its system being a violation, noting that everyday horses might consume something foreign to their systems.
"You couldn't run the race if that was the rule," he said.
He further criticized the KHRC for having rules that address injections of betamethasone, but not alternate methods of administration.
"What we have is an agency that has no rule," he said, regarding betamethasone in an ointment.
Jennifer Wolsing, general counsel for the KHRC, argued after Brewster, giving her an opportunity to counter, saying that KHRC medication lists would be "100 pages long" if all types of administration were noted in regulations with prohibited medications. She noted that KHRC rules reference injections because it is the "most common method" by which horses receive the anti-inflammatory.
She asked the court to apply a "dose of common sense," noting the regulations and her view that science makes no distinction between how betamethasone came to be in Medina Spirit's system.
She raised concerns that Medina Spirit did not test positive for betamethasone in out-of-competition testing leading up to the Derby and after Baffert indicated the colt began Otomax treatment. Baffert's California-based veterinarian Dr. Vince Baker prescribed Otomax on April 9, 2021 , and on April 19, 2021. A deposition provided by the colt's groom, Rolando Cruz, and treatment records provided by Baker to the California Horse Racing Board also back Otomax treatment claims. The horse was reportedly treated daily, right up to the day before the Kentucky Derby.
So when the drug showed up in both the original and split sample after the Derby after not in out-of-competition testing, "That's a problem," she said.
"All of this adds up to a reasonable inference that the Otomax did not cause the betamethasone positive; instead, it was caused by an injection," she argued.
Baffert denied an injection occurred during his testimony before Tuesday's closing arguments. Asked by his attorney, Craig Robertson, if Medina Spirit was ever given an injection of betamethasone, Baffert replied, "He was not," before raising his right hand on the video feed for emphasis.
He said he told his veterinarians to stop using the medications after his trainee Gamine tested positive for the corticosteroid after crossing the wire third in the 2020 Longines Kentucky Oaks (G1), also at Churchill Downs. She was injected in both hocks 18 days before the race, outside the 14-day stand-down period for the drug, a time frame that KHRC officials say applies only to a single injection.
Zedan, speaking before Baffert from Jordan via video conference, defended his Hall of Fame trainer, who he credits for his stable's success, calling him "straight up" and with "my interest at heart."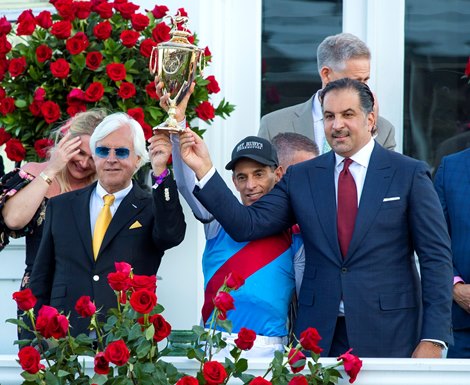 (LR): Trainer Bob Baffert, jockey John Velazquez and owner Amr Zedan in the winner's circle after Medina Spirit crossed the wire first in the 2021 Kentucky Derby
The owner testedified, "I feel I won the Kentucky Derby" with Medina Spirit, who died from a suspected heart attack late last year at Santa Anita Park. Experts do not deem it related to betamethasone administration months earlier.
Juddmonte's Mandaloun second across the wire in the 2021 Kentucky Derby, was declared the winner with the stewards' ruling issued in February.
"There's no upside for anybody here. The sport that we all love has been punished," Zedan stated during cross-examination. "Bob Baffert has served his punishment. He has been humiliated … The horse, for god's sake, died. Everyone's been punished. Let's just not punish the horse any further."
.