With purses in Kentucky at an all-time high, bolstered by historical horse racing gaming revenue, demand for stall space at racetracks and training centers for racehorses in the state has grown. Supply, however, has not kept pace, according to some officials and Thoroughbred racing participants.
The rebuilding of Turfway Park has prevented horsemen from being able to stable there this summer, and in Central Kentucky, the recent closure of Ashwood Training Center for the intended development of soccer fields has depleted the area of ​​approximately 300 stalls.
Combined with other challenges, such as Keeneland's annual summer needs to limit racehorse stabling space to accommodate sales horses, and the Thoroughbred Center in Lexington having fewer stalls after its barn area was updated with modernized stables, stall space is at a premium.
Ben Huffman, racing secretary at Keeneland and Churchill Downsdescribed training centers and racetrack stabling as full throughout much of the state.
"I think going forward when the project at Turfway Park is complete, we'll be able to stabilize some up there," Huffman said, optimistic that the Churchill Downs Inc.-owned Northern Kentucky track could potentially offer stabling in the summer of 2023 or in 2024.
Sign up for BloodHorse Daily
Ben Huffman (left) chats with trainer Brendan Walsh in the Keeneland racing office
Huffman said that no decision has been made on whether Churchill Downs will open its off-track training and stabling area known as Churchill Downs Trackside this winter. With purses up at Turfway and with its grandstand and barn area being refurbished, horsemen are more willing to stable and race in Kentucky during the winter.
"It would be nice for our horsemen that live in Louisville—but wintertime is normally when we repair, update, fix," Huffman said. "When you have horses stabled there 12 months a year, it is hard to keep things up."
For now, some trainers are in a bind, particularly those with smaller stables. Sam Semkin, who had eight stalls at Ashwood and had to relocate when the training center shut down at the end of June, said the issue is finding facilities for horses that are ready to run.
"There's plenty of places for horses, there's just not plenty of places for horses that are in training where you can get registered works and gate OKs," he said. "Fortunately for me, I don't have a lot of horses in training that were ready for running, so I was able to borrow a stall from a guy at the Thoroughbred Center for the one that is ready to run, and put the other horses at another farm.
"I do have another one ready to go to a track right now so he can have company, work at the gate, stuff like that. The one that I have at the Training Center I'm trying to run, I've entered him a couple times, and the races haven't gone. The idea is, once I've run him, then I can trade them out and take the one that runs to the farm for some time off."
Semkin, who trained in Southern California through 2013, said he has seen the demand for stalls rise with purses in Kentucky since he arrived in the Bluegrass.
"It's way worse now," he said. "Initially, it wasn't a big problem. Kentucky has the best purses in America right now for racing, so that draws horses. It's the supply-and-demand kind of a deal. Back when I first came, that wasn't an issue. When I was in Southern California, that was the best racing in the world, everybody wanted to be there, and it's no longer that way.
"The guys in charge of stalls at Keeneland and at the Training Center told me themselves there's a stall shortage, and they said we need another training center," Semkin added. "But who's going to build it?"
Though increases in supply can follow rising demand in many businesses, the time, space, and start-up costs necessary to build a training center and accompanying stable area present challenges to immediately filling a void. Property is also expensive.
Kentucky Derby Presented by Woodford Reserve (G1)-winning trainer Eric Reed, who years ago developed an old Spendthrift Farm training facility into his private Mercury Equine Center, said construction can be slow. Derby upsetter Rich Strike is among the horses he has stabilized at the 96-stall facility.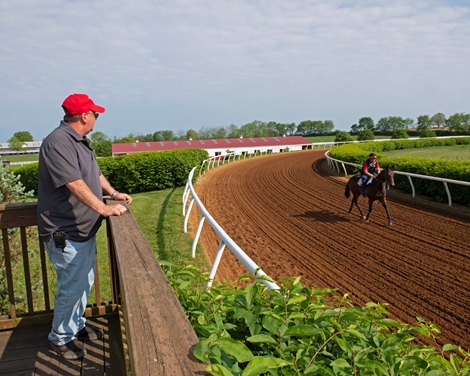 Trainer Eric Reed watches one of his horses train at Mercury Equine Center
"When I started on Mercury, we had the old track, but it was smaller. We ripped it all out and started again. I think from the time we started until to when we actually had a track with the proper surface and rails, just the track alone, was about four months. Then we had to redo the barns," Reed said. "I'd say if somebody came in on Day One with all the money and all the plans, and then had the help and the crew to do, they could probably have a track and some barns put up in six to eight months. That's asking a lot."
On the racetrack, trainers must apply for stalls, with track operators weighing, among other factors, the talent of their horses and the trainer's history of starts per stall—a measurement that can often leave a trainer with a smaller or beginning operation at a disadvantage .
Churchill limits a trainer to 40 stalls there, though one with a large operation might be able to call upon 100 to 150, counting horses stabled at other Kentucky tracks, such as Keeneland and Ellis Park. By shuttling horses in and out, "the big guys' numbers are out of sight," Huffman said.
"You're only allotted a certain number of stalls per track, and that can make it tough," trainer John Ortiz said. "In the past six months I've gone from a stable of 40 to 80 horses, and it's been very challenging finding stalls. You don't want to turn away clients and good horses. I'm at four different places in Kentucky right now between Ellis, Churchill, Keeneland, and The Thoroughbred Center."
Huffman stressed the importance of smaller-stable trainers and those beginning their own public training careers having opportunities.
"Will Walden, Jason Barkley, the Matt Shirers of the world—I need 'em—'cause you can't have 10 guys with 300 horses," Huffman said. "It works for them, that's great, but it's not working for the tracks, and the business, and the industry. And they haven't done anything wrong—that's not a criticism."
"It's been tough to get stalls anywhere (in Kentucky) really, especially being a new trainer," Walden said. "I have owners and clients that want to run here in Kentucky. Obviously, the purse money is extremely good, and Kentucky is a great place to run and train horses.
"The stall shortage is tough. We have a lot of big trainers here in Kentucky like your Steve Asmussen and your Brad Cox, and because they have so many horses they will naturally take a lot of the stalls wherever they go. It's no fault of their own, those guys have the horses and success they've had because they've earned it, but there has to be a solution to the shortage found, because how are you going to expect newer or smaller trainers to fill into those kinds of roles if it's going to be difficult for them to get the stalls to compete?"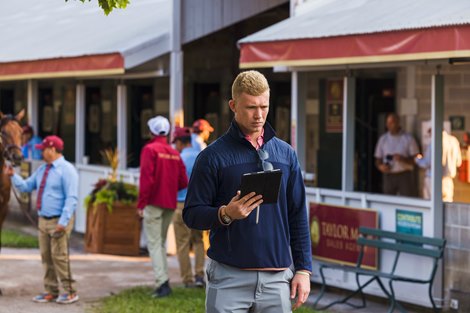 Trainre Will Walden examines young sales horses at Keeneland
Huffman said the precise number of stalls in Kentucky is difficult to pinpoint, but it's well into the thousands. Churchill can accommodate 1,250 horses, plus 490 at Trackside, he said. Ellis Park has "800 and something" stalls, and Keeneland can stable more than 2,000, though "sometimes we can't use all of them," he said, referring to the track's stabling needs for sales horses.
Kentucky-based trainer Kenny McPeek, like Reed, has his own training center—Magdalena Farm, off Russell Cave Road, the adjacent property to Ashwood Training Center. Unlike some that oppose the property's potential development, he is excited to see it change hands and become more of a green space with soccer fields.
He noted that Central Kentucky horsemen have long needed to adjust stabling for their racehorses to allow Keeneland to ready for its sales and later house sales horses on its grounds.
"Keeneland closes the first of August, and it has for decades," McPeek said. "It's the same dynamic; we (trainers) are all forced to migrate horses out after the first of August. I don't know why anyone seems to think it's any different than it was before."
Ortiz and Walden believe that another reason for the stall shortage was the closure of Arlington International Racecourse. Last fall, track owner CDI reached an agreement to sell the property to the Chicago Bears of the National Football League.
The former Chicago-area racetrack had the capacity to stable at least 2,000 horses over its typical five-month racing calendar. When Arlington shut its doors at the culmination of its 2021 season, it left Illinois horsemen needing to find alternative stalls for their horses. Options included Hawthorne Race Course and Horseshoe Indianapolisand several outfits shipped south to Kentucky.
Groups of Illinois and Kentucky horsemen are also competing this summer at Colonial Downs in Virginia, which has also seen its purses rise from HHR gaming.
"I'm fortunate I'm not in a position to find stalls at the moment, though last year I very well could've been," said trainer Anna Meah, who relocated her stable from California in the spring of 2020 and now trains out of Keeneland and The Thoroughbred Center. "Thankfully, this barn I'm in (at The Thoroughbred Center) opened up, because if that wasn't the case last year, my plan was to go to Arlington, and now there is no Arlington. That's left a lot of people in a pickle. I know a lot of trainers have shuffled to Hawthorne, and some have come down to Kentucky but have found it too tough to compete here."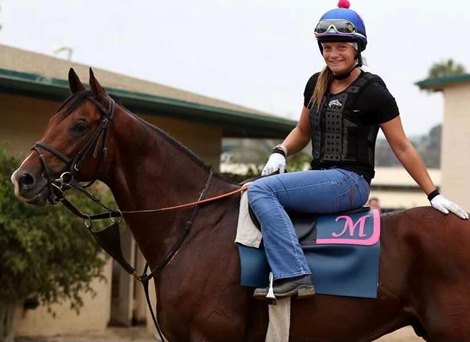 Trainer Anna Meah atop one of her horses
There are training centers throughout the state, 15 of which report works to Equibase. Highpointe Training Center and Skylight Training Center are not far from Louisville in Oldham County, while others are spread around the Commonwealth. Eric Foster runs from a training center in Owensboro, Huffman said, and other trainers, such as Reed, stable in the central part of the state.
Mercury and Ashwood are seven miles apart on Russell Cave Road.
"It's a shame to see Ashwood go," Reed said. "That was the old 505 (Farm) at one time."
Reed expressed his hope that Turfway would open for summer stabling next year, as Huffman suggested it could.
"The big purses are bringing people into the state year-round. So it's definitely congested," Reed said.
.